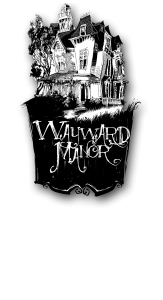 From the moment I saw @neilhimself post the Kickstarter of this game on Twitter, I was stoked. Neil Gaiman was making his first game?! Yeah.. I signed up as a backer immediately. With the darkness and imagination inherent in everything he touches, I couldn't wait. But I did. The game was delayed something like 6 months. I was disappointed, but I was confident it was well worth the wait. Let me tell you that I was not disappointed.
The Look
I'd seen a few pictures on the website *cough* click here *cough* for the art, and it quickly became a motivating factor for me in backing the game. For me, one of Neil Gaiman's hallmarks is the distinctive look of every world he creates. This was no different. His collaboration with The Odd Gentlemen and Moonshark is a no brainer; it works well.
While it isn't grown up, per se, it is just disturbing enough to make me hesitate about how old a player might want to be before they play. My 10 year old daughter wouldn't be afraid of the err… I won't ruin it for you… but some of her friends would. The game is, after all, told from the perspective of a haunted house desperate for you (his spectral best friend) to rid him of the current inhabitants. People facing their darkest fears is the name of the game which makes the colors, shapes, and clarity very important. In this case, the colors are brilliant and well used, giving the objects a crispness that makes them distinctive, even in very full rooms. It isvery obvious what everything is and where everything is in relation to everything else. This is particularly important when completing levels.
The Play
The game is a storytelling puzzler. You are given a masterfully crafted story (because Neil… duh…) and there are levels in which you (the spectre) must scare various characters using their darkest fears (usually turning their vices against them). They have only so much resilience before they're scare out of the room. You are given hints, if you need them, by clicking on the stationary "beings" in the room (e.g., ravens, gargoyles, cats, etc.), but the hints aren't dead giveaways (which I definitely appreciated). No level is overly difficult, but no level is overly easy, either. This makes it worth the mulligans with no pesky raging to ruin the fun. That being said, there was one bug I found that necessitated restarting the level. Once I did (a half a dozen times), I figured out what I was doing wrong (skipping steps, of course) and fixed it. In general, if you can make a move, it is something that is immediately helpful.The game doesn't let you mess up because it always provides a way out.
As far as controls go, there is nothing other than the mouse to use so it's more or less intuitive. In order to get the text to move, just click the mouse anywhere (I tried the arrow key as there was an arrow, but no.. just click the mouse). If you can click on something in game, it will have a green essence. The more you scare the characters, the more green objects you have to continue scaring them with. There is nothing tricky about the game except the puzzles. Hallelujah!
The Sound
As part of the Kickstarter, I opted for the level that included a copy of the soundtrack. SO glad I did. The music is well done, the sounds are appropriate for the game play, and they rarely get annoying (the twins made me want to kick, well, a twin (which is okay, as my brothers happen to be 31 year old twins… I have options). Each character and/or haunt has its own set of ambient and direct sounds but nothing is too abrasive.
Replayability
Here's the ONLY catch I see to this game. It's short. I finished it in a few hours (Maybe 3 or 4). That being said, there are 3 achievements called "secret scares" that are available for each level. Once you get the feel of the game, going back through to try to get those wouldn't be too bad, and the reactions of the characters are entertaining enough to make it worth your time and energy. Undoubtedly, you'll get some inadvertently during your first run through, but if you're into achievements at least you have options. Once you open the levels, you can jump right to them, so you don't have to go ALL the way through the game to get to the desired level if you do decide to give it a go. You can also hold the mouse button to skip cut scenes, so there's that. Overall, I would say it's definitely worth the $9.99 on Steam regardless of how many times you obsessively pour over the achievement lists.
The Short Of It
This game is GORGEOUS. The sound is soothing, creepy, and rarely (if ever) grating. The story is a masterfully developed transmedia story, complete with story arc and hero's journey (I loved the line about the hero's journey in the game… you'll see… it's cute) spanning the website, the game, and YouTube videos done by none other than Neil himself (get it?! @neilhimself … I'm killin' it today!). This game is worth picking up and telling your friends about. It's not often you get a well made, engaging, puzzle game by a collection of gifted collaborators. And come on… It's only $9.99. Preludes and Nocturnes costs more than that!