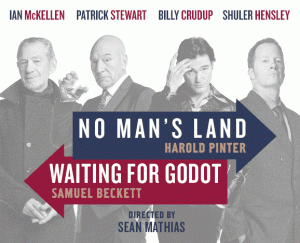 I FINALLY GOT TO SEE IT!!!
I know I have had this banner on my front page for a while now, but I was determined to leave it up until I finally got to see the show. Yesterday, I finally did it! I made my way over 3000 miles to see Waiting For Godot in rep at the Cort Theatre in Manhattan starring Sir Patrick Stewart, Sir Ian McKellen, Shuler Hensley, and Billy Crudup. It was… phenomenal.
I've been a fan of Samuel Beckett since I studied the history of theatre in undergrad. I chose to do my final report on a playwright from Ireland who I didn't know. As I'd taken Irish literature the year before, I knew what the typical component of Irish writing included, and was excited to see how that might translate into theatre. I was not disappointed.
Beckett, well known for his Theatre of the Absurd, is astounding. Doing the report, and being a psychology major, I decided to write the paper from a psychological analysis perspective, looking at Beckett's history for clues as to what elements of his shows might mean. There are quite the number of pre-existing guesses about elements of Waiting. I digress.
When I watched the full version on YouTube, I fell in love with the show even more than just for my love of Beckett. Every time you watch it, there is more to notice. Beckett fills the dialog with connotations and insinuations, sarcasm, irony, and blatant honesty. It's a utopia for semioticians.
That being said, McKellen and Stewart brought the characters an amount of depth that I hadn't thought possible (even considering the playwright and his history of perspectives). Gogo was broken. Properly beaten down and only able to function when distractions took him away from his pain and aching. Didi was resilient. You could see his defiance; his determination to endure and make the best of everything, despite the glaring realities. Or were they? The thing that this version made very clear to me at the end was Didi's desperate attempt to hold on to his reality. It made me think. It made me wonder what in Didi's life could make him construct this reality, if it were his creation.
Hensley was phenomenal as Pozzo. After the first version I watched, I'd loathed the character. After Hensley breathed life into him, taking on a Southern American accent, I felt bad for him. I felt as though he was living a lie and covering it with a false confidence that oozed like Gogo's wound. Lucky was also insanely amazing. The mannerisms, the energy while still being broken and weary, the way he brought his "thinking" to life… I was in awe. It was my favorite part of the show. Every actor was "on" and the words were done justice. A beautiful mind, indeed.
I could go on and on about it all. The set was brilliant and used fully. The sounds, the lighting… all of it was spot on and I am SO glad they gave us a little dance at the end. Everything about this show made it an experience I will never forget, and one that will keep Waiting For Godot at the top of my list of favorite plays forever. It ends in March. Make sure you see it; even if you have to travel 3000 miles to do so.