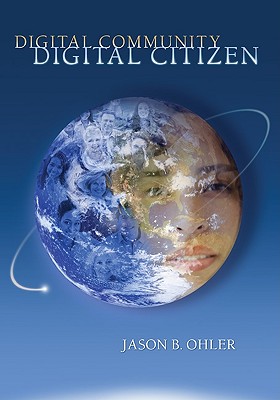 In his book Digital Community, Digital Citizen, Jason Ohler (2010) presents a way to analyze technology and Digital community, digital citizen media that can help us not only "see" the technology, but understand how it is best used, why we use it, and why it came about in the first place. In this post, I will analyze hand-held game consoles (e.g., PS Vita, WiiU, 3DS, GameBoy, etc.) using the first step in Ohler's De-tech-tive process; investigate. Though mobile phones are often considered hand-held gaming consoles, I will not be including them in this specific analysis, though most of the "de-tech-ted" concepts apply to them as well. When specific differences arise, I will default to specifically considering the PS Vita (as it is in front of me right now).
Physical Characteristics
Most handheld gaming consoles are small (conducive to being held in hand during play) and made of a combination of metal and plastic. They traditionally have a directional pad, buttons, bumpers, thumbsticks/joysticks, and most recently include touch screens (the Vita has a touch screen on the front and the back of the console). Typically, these handheld consoles are made overseas (e.g., Japan).
Enhancements/Reductions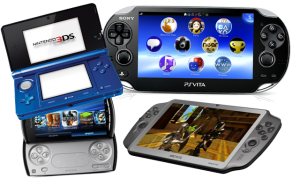 Using the notions of enhancement and reduction as described by McLuhan, I would say that handheld gaming devices amplify our eyes and our fingers. I would also say that our reasoning, reaction time, and attention to detail is amplified. Our ability to multi-task (such as it is) is diminished because of the immersive nature of gaming, and the reduction in space between our faces and the game screen. There is less space for distractions or other tasks to "intrude".
Predecessors/Future
Handheld gaming consoles replace board games, card games, and toys. Depending on the game being played, they may also replace books, movies, and television. Because of the immersive nature of handheld gaming, I would say the future holds augmented reality games. In fact, some already exist, but the technology continues to develop further and further. Eventually, we will have things like Google glass that doesn't require us to hold anything, and we can move about in a continual state of gaming reality.
Social Contexts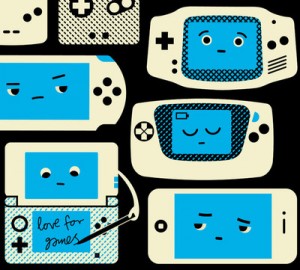 The social cues that contributed to the implementation of this technology undoubtedly include boredom and anti-social awkwardness. The inability to go without a stimulus, or the desire (but fear of) social interaction are both resolved to some degree when using handheld gaming consoles. Where things like a long car ride or waiting at the doctor's office  may facilitate impatience or anxiety, the ability to distract oneself with a game is a relief. Additionally, socially phobic or awkward individuals are able to experience social interactions, and in some cases become more socially adept via connected interactions (Chayko, 2008; Cole & Griffiths, 2007).
Biases
Handheld gaming consoles favor young, socially inhibited, perceptive, motivated, achievement driven, impatient, and/or active/over-active individuals. Because handheld screens are small, those with better eyesight thrive. Additionally, those with quicker reflexes, better joint movement, and more acute perception of surroundings are more successful in-game. Along those lines, gamers are motivated by a variety of things including socialization, achievement, and immersion (Yee, 2006). As such, handheld consoles are biased toward those who are driven by these motivators. Those who have a hard time focusing, sitting still, or enduring stagnant conditions are more likely to play handheld consoles.
Benefits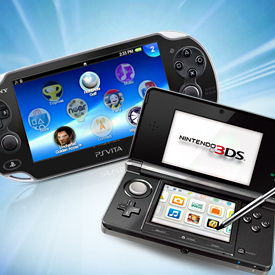 The benefits of handheld gaming consoles are entertainment, the development of hand-eye coordination, socialization through connected gameplay, an understanding of social norms and social cue interpretation, and tangential learning in a variety of subjects (e.g., auction houses to learn economics and math, farming to learn resource management, etc.). More subtle benefits that may be overshadowed by arguments against gaming may include staying home rather than loitering or vandalizing places outside the home, a safe environment for the expression of frustration or aggression (e.g., yelling at the game rather than getting into a fight), and becoming immersed in creative worlds which encourage independent and unique participation (e.g., fan fiction role-playing).
Impacts
Handheld gaming consoles, in most cases, allow us to connect to others in-game. they also provide more ways to message (e.g., Skype, instant messaging via gaming networks, etc.). In this way, we are connected to each other, and those we haven't met before but who have similar interests. However, when we escape into what Chayko (2008) calls our sociomental space, we disconnect from those around us physically. What is happening to/around us "in real life" becomes second to what is happening in our immersed state.
Handheld gaming consoles allow for the benefits of video game play, while providing convenient and consistent access. Understanding the uses for, benefits of, and challenges with handheld gaming consoles, may help us specifically target behaviors to either be replicated or extinguished. This is a technology which should be accepted and embraced, so long as it can be managed and used in functional and positive ways.
References:
Chayko, M. (2008). Portable communities : the social dynamics of online and mobile connectedness. Albany: SUNY.
Cole, H., & Griffiths, M. D. (2007). Social Interactions in Massively Multiplayer Online Role-Playing Gamers. CyberPsychology & Behavior, 10(4), 575–583. doi:10.1089/cpb.2007.9988
Ohler, J. (2010). Digital community, digital citizen. Thousand Oaks, Calif: Corwin Press.
Yee, N. (2006). Motivations for play in online games. CyberPsychology & Behavior, 9(6), 772–775. Retrieved from http://online.liebertpub.com/doi/abs/10.1089/cpb.2006.9.772